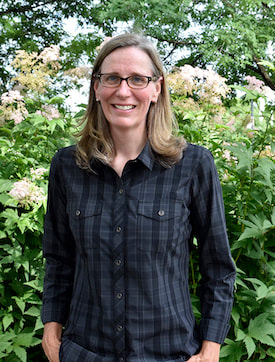 Heather Holm is a biologist, pollinator conservationist, and award-winning author. She passionately informs and educates audiences nationwide, through her writing and many presentations, about the fascinating world of native pollinators and beneficial insects, and the native plant communities that support them.
Here, you can download two of her graphic handouts:

What Are Keystone Plants?
Soft Landings
Here are free fact sheets about pollinators and recommended plants based on soil type.
Heather is a National Honorary Director of Wild Ones and sits on the board of her local Wild Ones chapter, Prairie Edge. In her spare time, she is an active community supporter, writing grants, and coordinating and participating in volunteer ecological landscape restoration projects. The latest project is a 13-acre oak savanna restoration that will provide thriving habitat for pollinators, birds, mammals, and passive, nature-based opportunities for people.